Riding a motorcycle is velocity as poetry. The fine balance between elegant agility and fatal fall is a kind of truth, and like all truth, it carries a heartbeat with it into the sky. Eternal moments in the saddle escape the stuttering flow of time, and space, and purpose. Coursing on those wheels, on that river of air, in that flight of freed spirit there's no attachment, no fear, no joy, no hatred, no love, and no malice: the nearest thing, for some violent men, for this violent man, to a state of grace.
— Gregory David Roberts, Shantaram
The odometer on my motorcycle ticks over to 1580 kilometers. I check my watch for the time, and the grey readout on the LCD reports that it is 6:32 am. Damn, has it really only been twenty minutes?
Ah, the steady rattle of a motorcycle between my legs, a full tank of gas, and the wide open road before me. This is life.
I've been afraid to write this post for a long time. I find that all motorcyclists arrive at the same conclusions about motorcycling, and it makes us all seem incredibly repetitive and clichéd when we state them. There's going to be some of that here, I think.
If you're looking for an objective review of the 2022 Royal Enfield Bullet, you won't find it here. This is equal parts love letter, review, and life story - if you find that sort of thing unbearable, click away now.
Getting it
After a bout of bartering that invoked an august assembly of deities from at least three religions, and incorporated spirited, carnal references to the sisters of our respective friends and acquantainces, a dealer agreed to hire out an Enfield Bullet motorcycle for a reasonable rental. I paid a bond and a week's rent in advance, kick-started the bike, and set off through the market's maul toward the beaches.
— Gregory David Roberts, Shantaram
Before January of 2022, the thought of getting a motorcycle hadn't really crossed my mind much at all. It seemed a faraway dream, to one day emulate my father and his Yamaha RX100, favourite bike of amateur '90s racers in India.
I love the way Royal Enfield motorcycles look. They seem to be the minimum required for a motorcycle to function, and that was always very appealing to me. The simple round headlight, a lack of any fairings or loud paint, the unabashed exposed engine - it all adds up to a motorcycle that is exactly the sum of its parts. I never thought I would ride one, though - all the wannabes riding around with their modified exhausts and obnoxious horns are honestly quite irritating and had turned me off to the idea.
A friend of mine got his hands on a Royal Enfield Meteor, and took me for a brief spin on it. I loved it. It is a wonderful motorcycle and probably my favourite in the Royal Enfield lineup (after the Bullet, of course). I could barely ride then - I'd prepared for my license on a 100 kg Hero Honda Dawn, and that test and the preceding practice left me woefully unprepared for Indian roads. To make things worse, the bike was a loaner and I didn't get much time with it, as I returned it right after I got my license. I didn't think much of it, but later when my friend and I did get to talking about bikes, I realised there was a love for bikes in me that needed sating.
I'd been freelancing with WeavrDAO since June of 2021, and I got paid a few times. It was quite a lot of money to me, more than I knew what to do with - so of course I decided that the logical decision would be to get a motorcycle. I started out looking for a cheap bike, and would probably have gotten something quite similar to the Honda Dawn I learnt on, but modern commuters all seem to have been polluted by "sporty" styling and stuffed full of plastics to minimize costs. My friend (the very same fellow from the previous paragraph) put the idea of a Royal Enfield in my head, and the hunt was on. I went on the RE website and saw the following picture: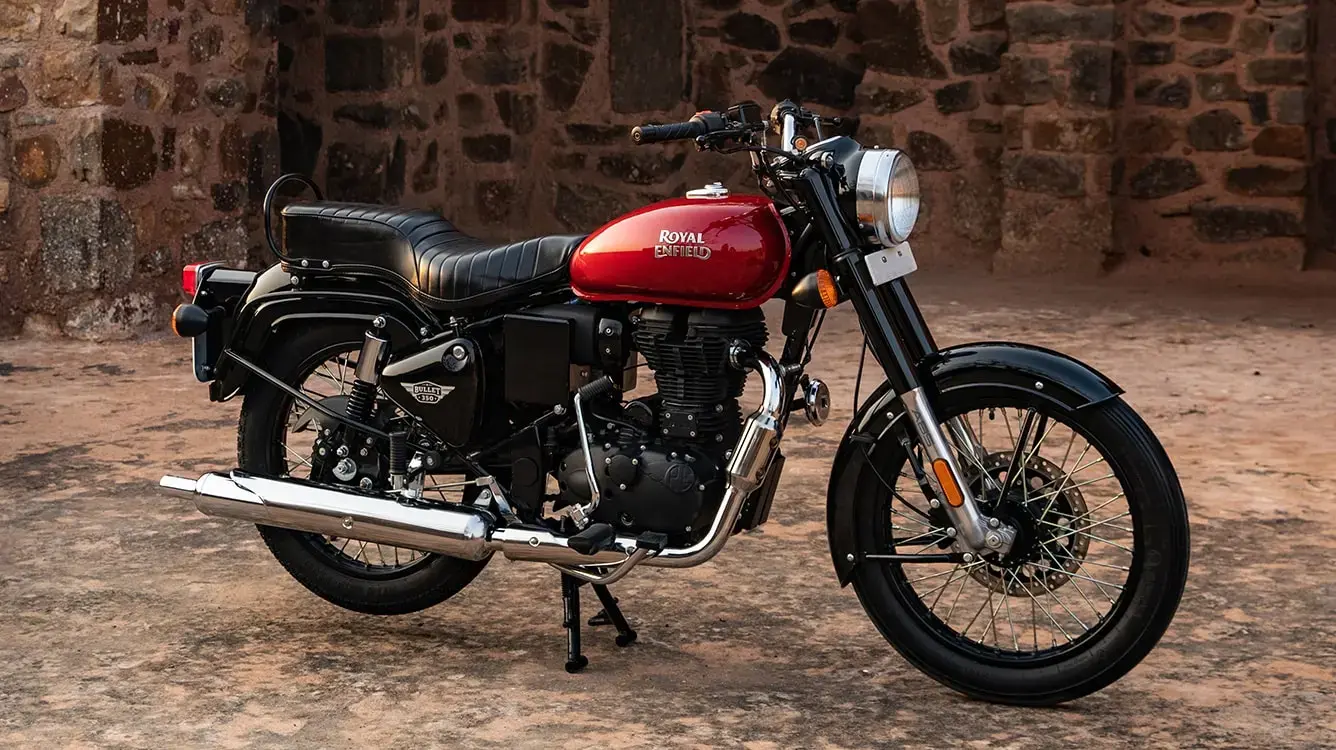 I took one look at it and knew it had to be mine. What a beautiful motorcycle. I began looking into it, and quickly realised that the Bullet, while a legendary motorcycle, kind of sucked at being a motorcycle in 2022.
Here's some stuff that put me off:
Heavy - REs have a reputation for being heavy motorcycles, by Indian standards. Back then I weighed a (horrendous) 55 kilos, so it was terrifying to think of maneuvering a motorcycle four times my size.
No rear ABS / disc brake - Self-explanatory. The rear brake is a drum, very spongy, and lacks ABS. Also, the drum for the brake is combined with the rear sprocket, and since the brake needs to be a softer material for some reason, the sprocket teeth are prone to breaking.
(Extremely) basic instrument cluster - The Bullet lacks a fuel gauge, and only has a fuel warning light on EFI models. As an inexperienced driver, it was scary to think of not knowing how much fuel was in the tank and getting stranded somewhere. There's no modern conveniences like a clock, external temperature sensor, or gear position indicator. Forget all of those, it does not even tell you which set of blinkers you have on, just that one of them is. In bright sunlight, you can barely see the various warning/indicator lights, and the speedometer needle blocks the odometer when driving between 60 and 100 kmph.
No hazard lights - Another thing I probably shouldn't have been too worried about, but I wanted hazard lights on my bike; they are cool.
No USB power - The Meteor has a USB socket, why couldn't my Bullet?
Poor tyres - The Bullet already suffers from its piss-poor rear brake, but the problem is compounded by the incredibly skinny and completely inadequate rear tyre, a relic from the 1930s models. It frequently causes skidding on wet roads. The front tyre isn't much better, and the tread pattern is identical to the Bullets manufactured in the '40s and '50s, which is a shame considering how far tyre science has come since then. To add to all this, the tyres are tubed, which meant no using those quick puncture patch kits, and also led to many frightening dreams of having a tyre blow out under me and causing death and destruction.
All of this led to me looking into other Royal Enfield models (I'd decided it had to be a Royal Enfield for no particular reason. Potentially because it's an Indian culture thing.)
I had things narrowed down to the Meteor and Himalayan. The Himalayan scared me because of the greater power and height (which I thought would be harder to ride because of the higher center of gravity, but I have ridden one since then, and honestly it's a really fun bike), so I ended up settling for the Meteor. Note how I say "settling for". While the Meteor had the Bullet beat on all fronts as a motorcycle, it lost in sentiment and aesthetics for me. I've come to realise the Bullet has become an integral part of Indian culture in the (almost 90!) years it's been in production and on sale, and it's an incredibly iconic motorcycle. No one really buys the Bullet because it's a good motorcycle–they buy it for the vibes. It's getting quite uncommon these days though, mostly bought either by die-hard enthusiasts or by people looking to get a cheap RE. It's sort of become the forgotten sibling, which is sad, but there's still a lot of love and fond memories for these bikes. In fact, I'm sure if I'd gotten a Classic or a Meteor I wouldn't get as many admiring looks from people as I do. And it's kind of funny, people here refer to all Enfield motorcycles as Bullets, to the point that people squint and ask what specific motorcyle I mean when I say I ride a Bullet. It's kind of sad, honestly - the Bullet is the ignored step-child of the RE family, when it's the bike that started it all, but the awe-inspiring part is that the Bullet has enough love for it that it doesn't really need marketing. There's always someone in love with the Bullet who's looking to get one. It's the motorcycle of choice for the Indian dad, and the Indian dad is a formidable force to deal with.
Anyway, for fun, here's a tabular comparison of the two bikes.
| Features ↓ | Meteor | Bullet |
| --- | --- | --- |
| Kerb weight | 191 kg | 191 kg |
| Brakes | Front and rear discs with dual-channel ABS as standard | Front disc brake with ABS, rear drum |
| Instrument cluster | Split LCD-analog cluster with speed, odo, 2 trip meters, fuel gauge accurate to 3L, service reminder, battery warning light, clock, gear position indicator, neutral light, indicator indicators, Tripper nav console | Analog cluster with speed, odo, fuel warning light (comes on when around 4 liters is left in the tank), neutral light, single blinker indicator |
| Hazard lights | Yes | No |
| USB power socket | Yes, 10W | No |
| Wheels/Tyres | Tubeless alloys, 100/90 R19 front, 140/70 R17 rear | Tubed spoked wheels, 3.25x19 - 54P front, 3.25x19 - 60P rear |
| Looks | Weird Harley-clone looking thing | Cool uncle motorcycle |
| Sentiment | Fucking upstart little bike | 90 years of lovesick movie heroes and stories from your father |
So I ended up booking a Meteor. I was told the lead time on a bike would be two months... Fine, whatever, I'd be in college for that time anyway, and I'd get it at the start of the summer vacation. Perfect. I paid the twenty-thousand-rupee booking amount for a Fireball White Meteor (it's a custom color) and moved on with my life.
One month came and went, and I was getting impatient to hear about the bike, since their site didn't even show it as having moved to manufacturing. I was assured it would be ready in time.
Two months came and went. I moved home from the college dorms for the summer. No bike. Weekly phone calls to the dealership became daily phone calls to the dealership, and I was told that due to pandemic-related global shortages, I would be receiving a motorcycle without the Tripper navigation pod, but I could pay to have it added later when they became available. To add insult to injury, they said it would take ANOTHER two months to get the bike to me! I felt incredibly cheated, since when I booked the bike the Tripper came as standard, and honestly I think Royal Enfield could have handled the whole thing way better. I got irritated, called the dealership demanding to know what motorcycles they had in stock that I could pay for on the same day and immediately take home. I was told there were two Regal Red electric-start Bullets available. It's funny how these things work out - that promotional photo above is also a Regal Red variant, and it's what kicked the whole thing off. I decided to test-ride the Bullet, and went to the dealership to be given a Royal Blue Bullet ES to try out. The bike was in horrible (God, there are friends from the dealership who are probably going to read this, sorry guys!) shape, honestly, but I was assured mine wouldn't be that way.
I honestly wasn't sure if I really wanted a Bullet and I liked it, or if it was just desperation to get a motorcycle, to get on the open road, to feel the wind in my hair and hear the steady thump beating away, nothing to stop me (except the price of gas, of course). The bike is definitely a step down in terms of ease-of-use and refinement, and I realised I'd become heavily reliant on the gear position indicator on the Meteor in the time I'd been riding my friend's. It's an eccentric motorcycle for sure. But I said, screw it, and paid the ₹195k and change for the bike. It was ready for delivery 7 days later.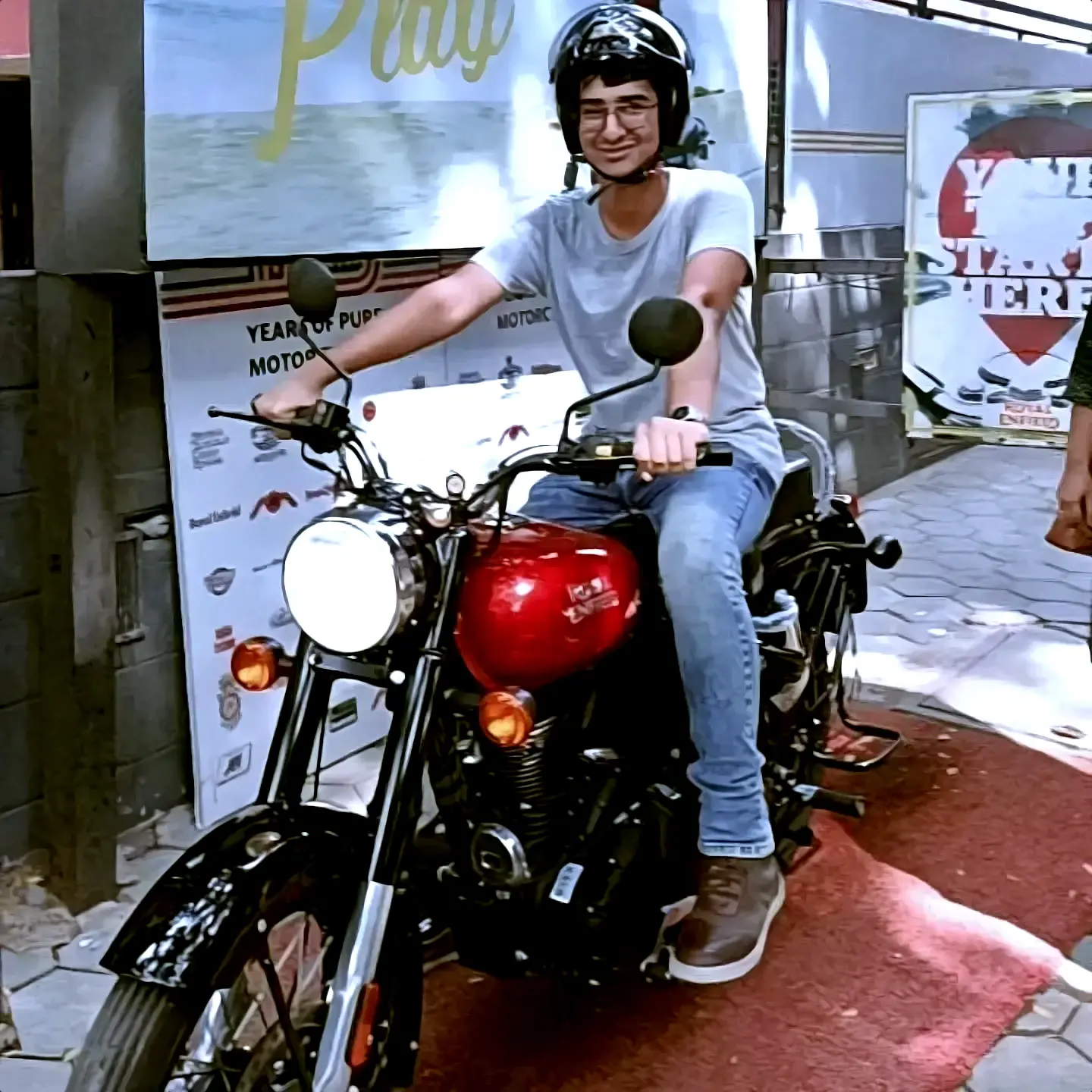 I was relieved to find it didn't ride nearly as poorly as the test-drive unit, and it was a solid, fun bike. My mother, sister, and father came with me to pick it up, as did my friend who got me into the whole mess. My friend and I took our bikes out and cruised along the beach, before my family forced me to go to a temple and get the bike prayed for (no idea how to put it any better than that.) We had lunch and I went home.
The bike
The list I put above is frighteningly long, but the bike really isn't as bad as it seems on paper. I know it sounds criminally stupid to get an objectively worse bike, but specs are all made up numbers anyway - get the bike which makes you happy. The only number you should care about is the horsepower the miles of smiles.
By the way, I'll address all of those complaints in a bit, but I'll preface that explanation by saying that sometimes riding a Bullet will definitely leave you wishing for a bit more power. I've found myself trying to shift to a nonexistent sixth gear to get a little bit of extra oomph on the highway, so I can get up to 150 or so instead of the paltry 100 or 110 I usually get out of it. With great coaxing it might go a bit faster, but I suspect foul play here (rev limiter). More on that in the mods section.
The ride, though, is grand–it's an incredibly comfortable, well-built cruiser, with plenty of power for most situations (see above.) The suspension is plush and EATS your average Indian pothole, and contrary to popular belief, refinement is top-class. While the bike does certainly vibrate a bit at higher rpms, there seems to be a rev range it's most comfortable at in every gear, where vibrations disappear. For the first 5000kms or so, gearshifts felt somewhat metallic and clunky, but now they're smooth and satisfying. I found the stock handlebar a little too low for my liking, so I got a taller one (courtesy of my friend Jayant, who reappears in this article later), and that was that. You can comfortably spend 3-4 hours in the saddle before needing a break, and any vibrations that do make it to you are concentrated in the footrests, which beats them being in the handlebars and seat, as is the case with some REs I've ridden. I've been thinking the Bullet is the original Indian ADV, from before the concept of ADVs even existed, deployed by the Indian Army for border patrol use, and ridden to Ladakh by rough-and-tough motorcyclists since time immemorial. That spirit persists in today's bike, despite the changes that have happened since then (two new engines, electronic fuel injection, electronic spark and the addition of an ECU), and I can almost hear all those memoir-writing motorcyclists calling me a pussy when my feet go numb from continuously riding at 5k rpm.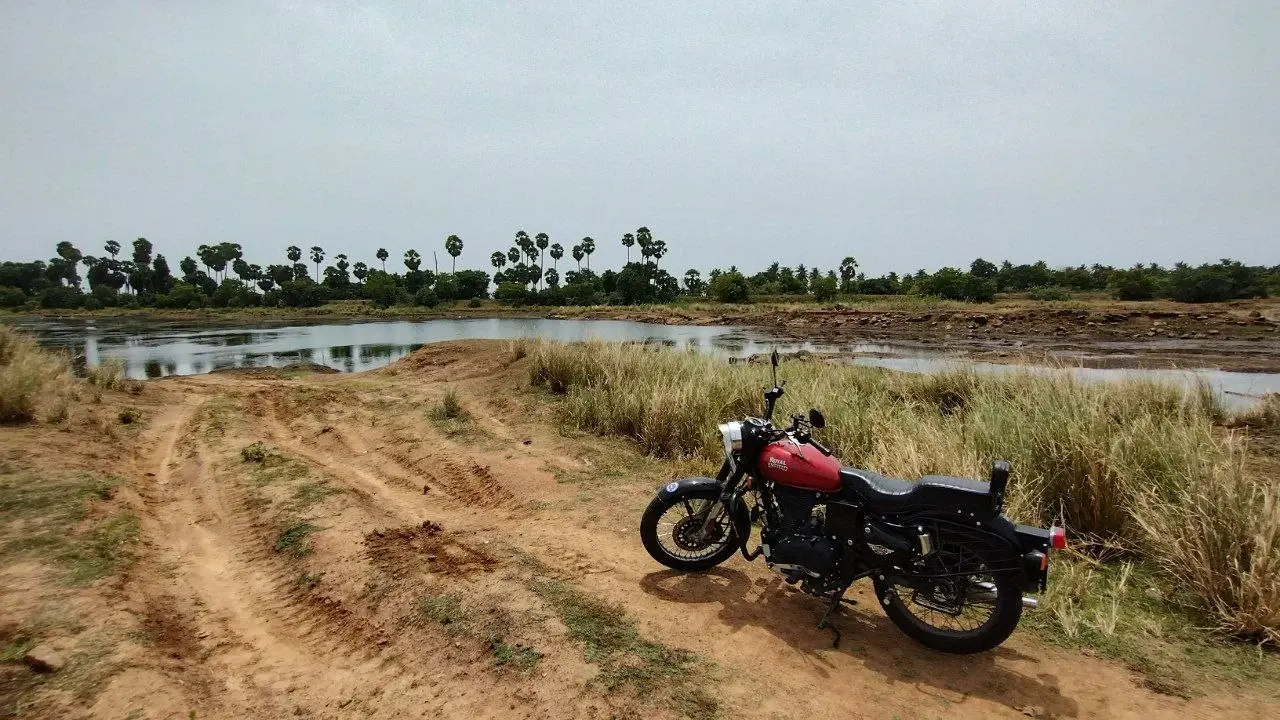 As for the laundry list of complaints above, here's how my fears were allayed.
Weight - I weighed between 50 and 60 kilos when I got my bike, and I was surprised how well it handled and how quickly I got used to the weight. It's not by any means a bike you would consider flickable, but it's rideable in Indian traffic and that's saying a LOT.
Braking - braking still sucks. Replace brake shoes every 5000 km and get wider tyres. Also consider changing brake pads. ABS works quite well though, and since the wider tyres I've always felt confident about riding around on most roads.
Instrument cluster - As I rode more and more, I realised I didn't have a need for trip meters since I logged trips on my phone anyway, that I'd developed a pretty good sense of how much more I could drive on a given tank of fuel, and the gear position indicator is useless because you know what gear you're in based on speed and engine sound. The blinker thing is still pretty irritating, since it requires me to look down to check what blinker I have on when I'm not sure (or move the switch about, which seems pretty stupid). The speedo needle thing is also annoying, but I almost always have Google Maps open which means I can just look at the GPS speed readout on that.
Hazard lights - There's a solution for this involving a twenty-rupee switch and some poking around in the headlight assembly. No worries. (In short, connect the switch between the left and right indicator power lines.)
USB socket - I got a phone mount with a 15W charger on it. No complaints, it has saved my butt several times, it supports USB-C PD, and has a nice switch on it too (take that, Meteor).
Poor tyres - Yeah, the stock ones are dog shit. I spent about five thousand rupees on new ones and we're golden.
Other issues
Right-side drift - My bike pulls to the right when I let the handlebars go. Which makes me look lame as hell. This needs fixing. I suspect a wheel alignment issue, would love other suggestions as to what it could be.
Instability on low air - Whenever my tyre pressures get low, the bike starts to feel quite unstable and wobbly. It's not too bad, but worth keeping in mind, and it's probably also worth investing in an air pump to top off as required.
Spongy brakes - Yeah, I've talked about this before. The drum brake is especially bad, and the tiny rear tyre does not help one bit. The bike is prone to skidding, and will frequently put the fear of death into an otherwise happy man.
Random shutdown - One time in traffic, the bike just died - no idea why. It was pretty scary, since it wouldn't start up or even prime the fuel pump, but turning the ignition off and on a couple of times made it work again. Hoping it was a freak accident, but if someone can shed more light on why it might've happened that would be great.
The clutch is (necessarily) very "heavy", and that makes it a pain to ride in heavy traffic, but you get used to it. Wearing gloves also helps.
This is... a temperamental motorcycle. But if you can put up with its little eccentricities... I'll let GDR take it from here:
The Enfield of India 350cc Bullet was a single-cylinder, four stroke motorcycle, constructed to the plans of the original 1950s' model of the British Royal Enfield. Renowned for its idiosyncratic handling as much as for its reliability and durability, the Bullet was a bike that demanded a relationship with its rider. That relationship involved tolerance, patience, and understanding on the part of the rider. In exchange, the Bullet provided the kind of soaring, celestial, wind-weaving pleasure that birds must know, punctuated by not infrequent near-death experiences.
— Gregory David Roberts, Shantaram
Mods (planned and current)
Most of these mods were to improve comfort, and not really to address some deficit with the bike. The bike in its current state looks this way: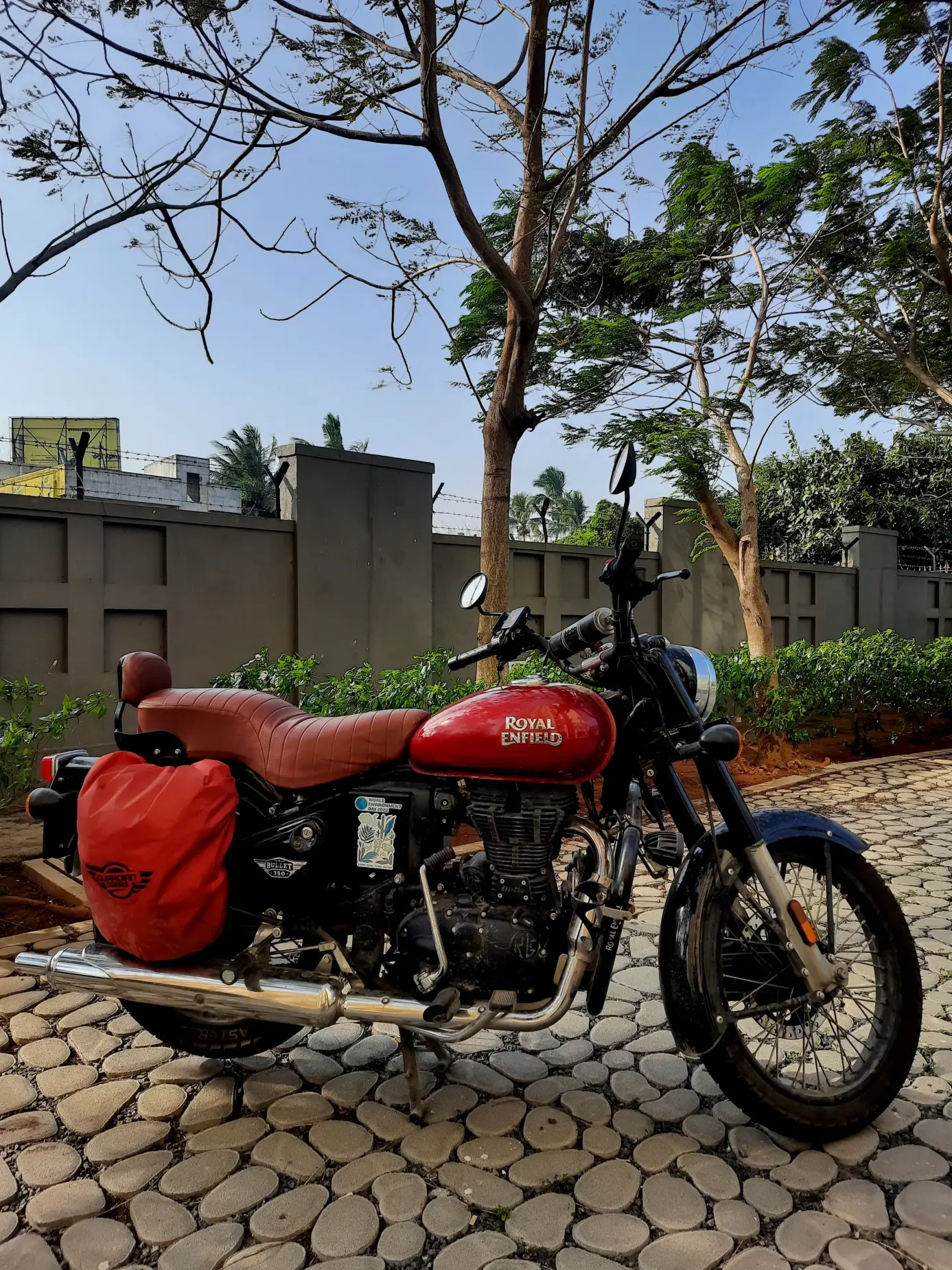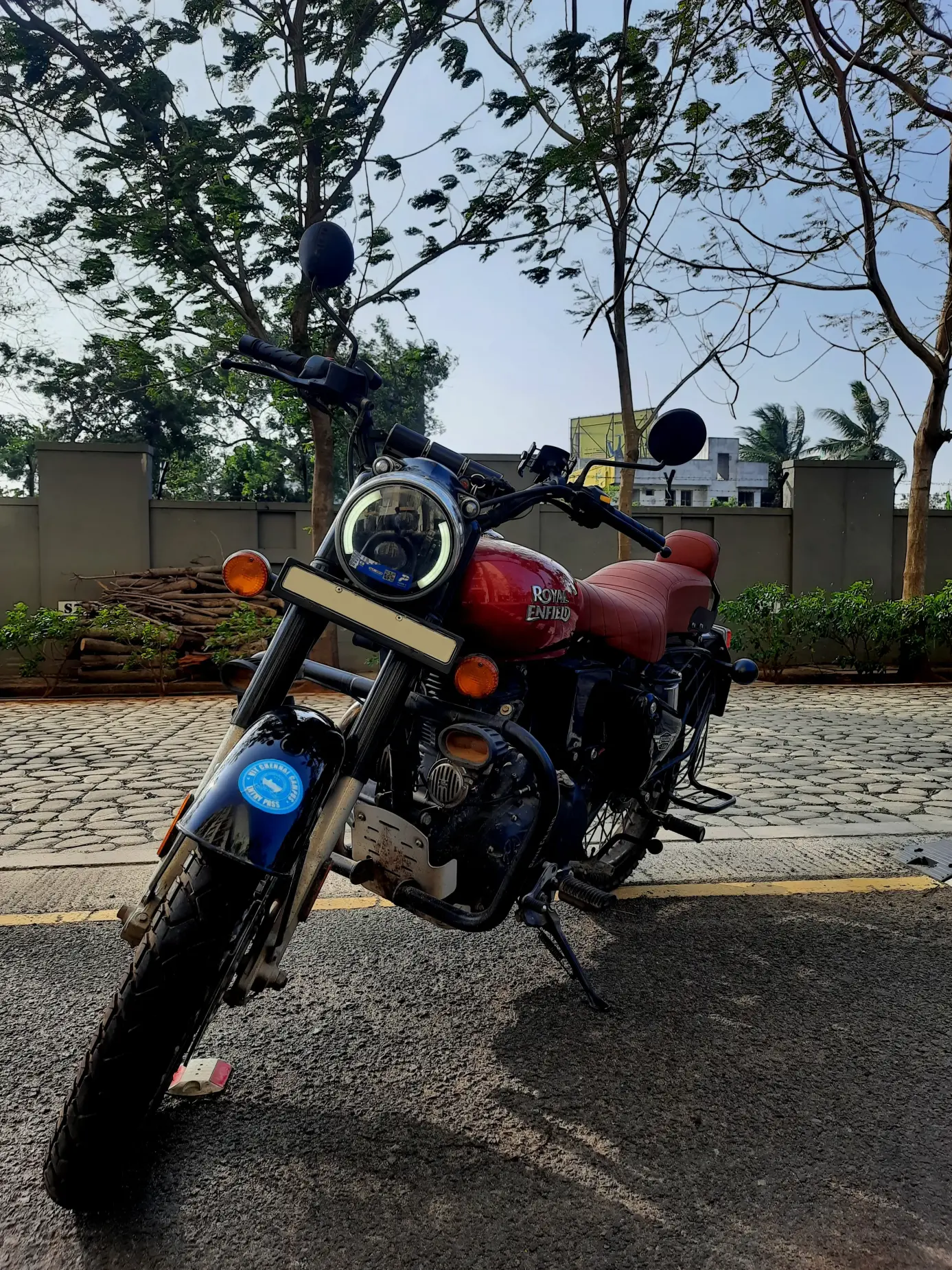 Stuff I've added:
Sump guard (Royal Enfield GMA) - One of my worst nightmares was hitting the underside of the motorcycle on something and cracking the engine. I fitted a sump guard to the bike to allay my fears, and it's worked. Now it feels like at worst I'll break a footrest if I hit something because of the low height of the bike.
Headlamp kill switch - BS6 norms state that all motorcycles have to have an always-on headlamp, which reduces the life of the lamp and associated wiring. I bought a yoke from an older bike and switched to that one, which has a switch for the headlamp.
Hazard lights - as mentioned above, I simply connected a switch between the left and right indicators, and I can use it to make them both flash together.
New handlebar - The stock handlebar was a bit low for me, so I replaced it with the handlebar from the Yamaha RD350, which seems to be the right height. I'm tempted to try the handlebar from the old Thunderbird, which is even taller.
Side saddlebag - The Bullet has no storage anywhere, save for the fuse box which has about enough space for a pack of cigarettes and no more. I added a 20L saddlebag from Guardian Gears (not sponsored).
Fog lamps - Two small yellow LED fog lamps. They do their job, no complaints.
New headlamp - I replaced the headlight dome with a new assembly with LED lamps. It definitely performs better than stock, but I am torn on the looks.
Music system - the infamous MT487 motorcycle radio. Claims to be waterproof, worked great until it got wet. 0/10, would not recommend. It crackles a bunch now, and I intend to replace it with something else a bit louder and more waterproof.
Bobo BM4 cell phone mount and charger (But not Bobo, an identical one of a different brand that's quite a bit cheaper)
Toe-only gear lever (used to be a toe-and-heel shifter, I sawed off the rear bit)
New seat cover - Tan. I thought it would be a nice, quirky color. Still divided on its looks.
New wider tyres - I replaced the shitty stock tyres I've been complaining about all article with new ones. The tread patterns on the new tyres are so much nicer than the old ones, and the wider tyre leads to waaay better braking and skid protection.
Double horn setup - The Bullet comes with an adequate horn, but we don't settle for that in this house - I got two slightly smaller horns and wired them up with a relay to soothe my ego.
Fixed footrest (bent in an accident, the replacement part was three hundred rupees)
New brake shoes and light - It'd been about 5000 kms when I went to get this done, so I replaced the drum brake shoe and front brake pad. I also got a new LED brake lamp that flashes when I brake, but I didn't like it, so I put the stock one back.
Fixed tank badge (lent it to someone who got it scratched/ripped off, so I changed it. As a bonus, I got the old 3D badges from the Bullet Electra, so I replaced the ones on the air filter cover and toolbox as well.)
Water bottle holder - Honestly probably my personal favourite and the most useful mod I've done to my bike so far. 100% recommend everyone get one.
Stuff I plan to add:
Removable seat with underseat storage and an extensible backrest (so I can lie down).
Footrests on the crash bars - great for stretching during highway trips.
Custom, digital speedometer of my own design, with a tach, fuel gauge, and some other useful information.
Add the silencer from the BS3 Classic 350 for better sound. Alternatively, carve up the inside of the current exhaust.
Replace the oxygen-sensor-bearing exhaust pipe with the free-flowing one from the BS3 Classic.
EFI to carb mod - I intend to replace the throttle body with a carb. I really dislike the addition of computers where they aren't necessary (even though I'm a software engineer, or maybe because I am) and find carburetion a simple and elegant solution to a complex problem. Plus, it would enable me to work on my bike myself, since carburetors are much easier and simpler to diagnose and fix issues with than a fuel-injected setup.
If the EFI goes, the ECU probably won't like that... so the ECU has to go, as well. The bike is speed-limited to 100kmph for tax reasons as far as I can tell, but I've heard reports of people going 120-130 on their pre-ECU models. The wiring harness from the BS3 is compatible with the current model, if I replace some engine parts and add a second spark plug, so I'll do that. That would leave me with CDI ignition, which allows the trivial addition of a tach and also makes the bike way simpler to work on.
Retrofit ABS - if the ECU goes, the ABS will need to be replaced as well, since the BS3 Classics accomplished it differently because they lacked an ECU.
Stock lamp - I don't really like the look of the LED lamp, as I mentioned above. I intend to replace it with the stock dome and reflector, and add a high-performance LED lamp instead of the halogen one that comes stock.
Better suspension? This is getting pretty far out, but I feel like the Bullet suspension might get even better from being lifted and adjusted a little.
Experiences
I rode my bike around the city a lot, but I'd really bought it for the highway. My dealership organises rides regularly, and my friend talked me into going on one, even with my crippling anxiety surrounding meeting new people.
We went to Alamparai Fort, about 200kms from Chennai. I was terrified of highway driving, and kind of sucked at it, but everyone assured me I was doing great and to not get too dejected. (Jayant, if you're reading this, you're awesome. Thanks for everything.) I think I've gotten better since then.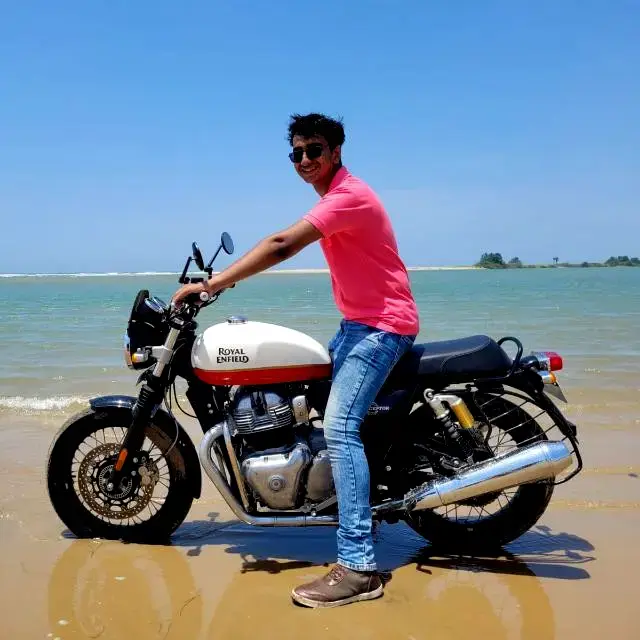 There's really nothing quite like it. And there's almost nothing to it, that magic in group rides - it comes from the love of motorcycling, a bunch of people bonding, brought together by their love of the open road. Part of the reason I didn't get a Hero or a Honda motorcycle was this - the love and community surrounding these bikes in India is insane.
In no particular order, here are some of the rides I've been on, solo and group:
Alamparai Fort (230 kms) The scenic ruins of a French fort, now just a beach, really. My first "long" trip.

Kollidam (about 500 kms total) - A two-day camping/kayaking trip. We slept in tents under the unpolluted rural skies, kayaked in the backwaters, and had a ton of fun (there may have been drinking involved that first night.) That trip resulted in some really great friendships, too, and it was overall entirely delightful.

Pondicherry (400 kms) - Didn't feel so good one night, decided to ride to Pondicherry. Went to the beach, drank tea. 10/10, would do again.
Bangalore solo (about 850 kms) - What it sounds like. I'd been working up the courage to do a solo trip for a while, and I settled on Bangalore as my destination of choice. I caught up with a couple of people from high school, met my aunt, explored this set of hills called Nandi Hills - overall a great trip.


Accident - This trip also contained the first (major, there've been a couple of drops at low speeds but nothing too bad) accident I've had - I went over a (in my defense, unmarked) speed breaker, skidded and dropped the bike. Nothing happened to me, but the crash bars on my bike snapped in half and there was some other minor damage. I rode to the lone service center in Vellore and got my bike looked at, then rode home. It really speaks to what a tank this bike is. The crash guard served admirably to protect the engine (and my legs from being crushed), and I basically consider them (the guards, not my legs) disposable, and beyond that and a smashed (but functional) headlamp, the bike was in perfect riding condition. There was a torn gasket in the silencer (but I suspect that came from the service center people handling it improperly during the footrest replacement), and the front fender was bent (which meant I had to replace it), but the whole affair cost less than ₹10000. I'd like to mention that I consider this a consequence of the crappy stock rear tyre, which should not have skidded as easily as it did. More in the mods section. This was also the first time I really learnt to trust my bike - I learnt that whatever might happen, I would be able to ride home on it. The bike can smell my fear, and I got to be a better rider after I learnt to trust it more and push its limits.
Mahabalipuram (various) - My current apartment is a stone's throw from Mahabalipuram, and so I go there quite frequently, both with friends and alone. It's a nice escape from the monotony.
So far, that's about it. The rest of the 8000kms came from riding around the city and stuff, and these days I average about 30 kms a day riding around my college town.
I've had a great time throughout - I always have fun conversations with other RE owners and motorcycle enthusiasts in general, randomly in parking lots or at tea stalls. It's really a wonderful way of making some friends and really just having fun talking about bikes. It's also almost nice to be known as the motorcyclist in all my circles, since it's still kind of evolving in India even with all the motorcycling that goes on here, and people don't really realise it can be a kind of involved habit. I get checked out on my bike all the time, which is definitely a nice feeling, and they always have a question or two to ask about my (admittedly peculiar) setup.
Services, too, have been okay - they could have been better, but I have never left a service center wanting for something, either. The service staff here at the two Royal Enfield company-operated service centers in my city are polite and helpful, if severely overworked. I feel like these are just growing pains for the company, which is honestly expanding like nobody's business, as is evidenced by the lead times on the purchase of a new motorcycle (my roommate waited 5 months for his, and that seems to be typical). They really need to figure out their manufacturing and supply chain, along with after-sales service, or they will gain the kind of dangerous reputation they had in the '80s and '90s, which would be a damn shame — the bikes they're putting out these days are some of the finest ones they've ever made.
It's amongst the most freeing experiences, in my opinion, to own your own transportation, and I love the sense I get that I could go anywhere or do anything with my bike. And that, dear reader, is what I will leave you with - the longing for that sense of freedom, and I implore you to go find it, whether it's on a 125cc commuter, an 883cc Harley Sportster, or the humble Royal Enfield Bullet 350.
If you liked this article, or just like bikes in general, consider
emailing me
and we can have a chat!